Description
Do not focus on creating content, but rather on generating opportunities for content creation. Run your business with Instagram in mind.
Instagrammable spaces, inspiring moments and unforgettable experiences should be on top of your business strategy.
---
WHO IS THIS GUIDE FOR?
If you own or manage a hotel, resort, hostel, B&B or home/apartment rental this GUIDE is for you. In this GUIDE we provide you with 33 ideas on how you can make your property Instagrammable so that your guests take pictures and share them on Instagram providing you with cost-free promotion and exposure.
If you are the owner of a bar, restaurant, F&B outlet or spa, in this GUIDE you will find a full section dedicated to your business so that you can get inspired and successfully implement the ideas into your property. Moreover, you will learn about the Instagram and user-generated content phenomena as well as the Instagrammability trend and why it is so important in the hospitality industry.
---
WHAT'S INSIDE THE GUIDE?
The GUIDE consists of two major parts:
1) facts and current trends on Instagram which will give you a lot of information regardless of whether you are a beginner or you already know a lot about how Instagram works:
phenomenon of Instagram and significance of the worldwide Instagrammability trend in the travel industry explained, key data on social media with the focus on Instagram, worldwide media examples, importance of user-generated content and social shareability, consumers' criteria when traveling/planning a trip;
2) concrete tips and ideas on how to make your hotel or part of it Instagrammable, with numerous practical examples:
33 ideas (ready-to-make solutions) to get inspired with illustrated examples, popular hashtags and external links recommendations; divided into 6 parts of hotel (exterior, reception/lobby, elevator, room, restaurant/bar, spa/pool/beach);
interviews with hoteliers from around the world (Hawaii, Tbilisi, Marrakesh, Vancouver), who shared their success stories and best practices;
valuable expert tips (including a hotel room makeover) shared by a production designer in Los Angeles;
a checklist so that you are ready to apply the solutions and avoid common mistakes.
---
WHAT IS NOT THIS GUIDE ABOUT?
Please note that this GUIDE is NOT about how to run/optimize your business profile on Instagram. In this GUIDE you will NOT find tips on how to take perfect pictures to post them on your Instagram feed neither.
---
WHAT DO I GET?
A 55-page downloadable e-book (in PDF file).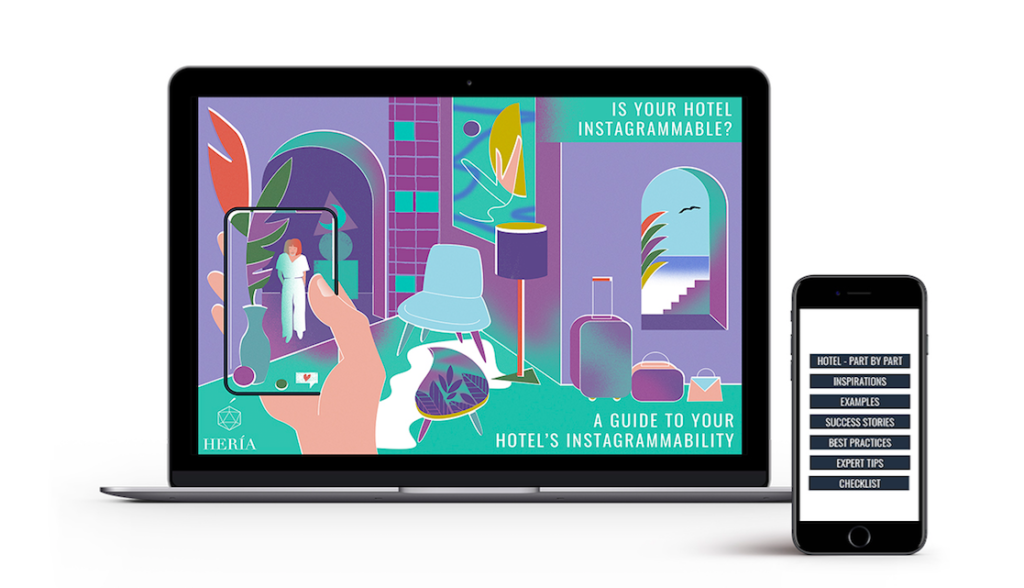 ---
HOW DOES IT WORK?
After the payment process is complete, you will receive the GUIDE to the e-mail address provided during the payment process, ready for you to download, study and start implementing the ideas into your business. You will have 14 days to download the file.
---
WHAT ARE THE PAYMENT METHODS?
There are different payment options you can choose from:
direct bank transfer,
PayPal,
credit card,
electronic bank transfer.
---
WHAT ARE THE HOTELIERS SAYING – AFTER THEY HAVE IMPLEMENTED INSTAGRAMMABLE IDEAS?