I have just released an imagery guided meditation titled: "A HOTEL VISIT" which incorporates tourism and wellness, and is a great mind travel experience, especially during the COVID-19 pandemic times.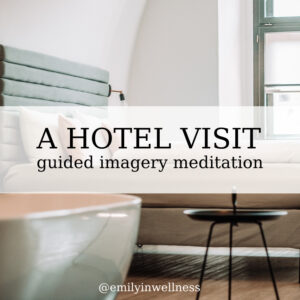 "A HOTEL VISIT", an imagery guided meditation, was created from my passion towards hospitality, inspired by my stays at different hotels, as well as my strong belief in the benefits of meditation, built on evidence-based research as well as a profound "me-search" when practicing meditation by myself.
What once was reality became somewhat a dream.. We might not travel and experience a hotel stay at this moment, but we can get a glimpse of it! We might be confined with our bodies, but we are not confined with our minds… and this meditation is a "mind travel", which can be very powerful and can bring about positive feelings and positive change in the long run.
Mental health is one of the most important topics nowadays, i.e. the Global Wellness Institute in its Defining the Mental Wellness Economy Report indicated meditation and mindfulness as one of the paths towards mental wellness.
"A HOTEL VISIT" guided meditation will transport you to a hotel of your choice, without leaving your home, passport is not required ;). Enjoy!
Emilia Florek-Guerrero
Founder of HERÍA
known as emilyinwellness